A selection of photos taken 10 years ago about Peking Opera is now stirring a debate on the Internet. In these six black and white pictures, the female characters are naked.
Every photo's theme is a well-known story of Peking Opera, but the pictures show the male characters in costume and the naked females posing intimately with them. And it's the nude women who are the focus of the viewers' attention, rather than the Peking Opera costumes. The purpose of these photos is not clear but people speculated where the photographs first appeared.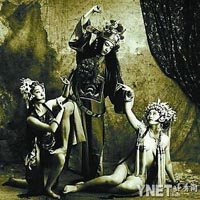 Nude women with Peking Opera make up in the photo. [YNET.com]
The first guess is that these photos are murals of a Beijing pub. The first Internet posting of these pictures appeared in August 2005 and the poster revealed the pub was going to be sold around that time. However, he did not mention the name or location of the pub.
Many web surfers were angry at these photos because of the combination of nude women and Peking Opera. Some said they would never go to the pub with these painted murals, saying that they ruined the reputation of China' s traditional art. Others thought these photos were pornographic. But there were also countless web viewers inquiring about the location of the pub.
Due to their shocking content, these photos were reposted by many netizens till June this year but the captions were changed to "nude players perform Peking Opera in a Beijing pub". A netizen commented, "These performers went too far. I strongly feel they should be punished!" and some others said, "We can see another level of Peking Opera now. It's rare."
Others believed the source of these photos are part of someone's personal photographic work called "San Jie" or "Three Realms", which were taken by a photographer named Liu Zheng in 1990s. Although people realize these bold photos are considered art, they are still talking about the relationship of Peking Opera and nudity.
A netizen explained, "I'm not against nudity, but I'm firmly opposed to the combination of naked women and Peking Opera. I don't think people should disgrace our Chinese treasure."
Liu was shocked by the comments on the Internet, and people posting his pictures without his permission. He promised to hold a press conference in the near future. "I'm preparing to solve the problem by lawsuit," he said.
Gallery manager Chen Guangjun and close friend of Liu, also expressed his surprise. "Many photographers thought it's weird. I didn't know anything about it until reporters asked me what happened to Liu."
Chen said he knew of the series of photographs "Three Realms" and believes they have nothing to do with Peking Opera. "Liu's work is popular overseas and he just borrowed some cultural elements from Chinese art, which foreigners like."
He continued, "Sometimes it's hard to define art and pornography. People outside art circles may think an artistic work is pornographic. If these photos were published 10 years ago, they could stir many more debates," he added. "I don't believe Liu sold his work to a pub. So if any pub has his work, they are pirating his pictures."
Yin Hong, a professor of School of Journalism and Communication of Tsinghua University explained people's attitudes towards art are constantly evolving, and becoming more accepting of nude art. He says it's because of such mediums as the Internet and television that people can decide whether an artist's work is art or pornographic. People not only need to verify the purpose and content of the work, but also discuss how it affects society's values and morals.