BEIJING -- The Olympic torch relay began its final leg in Beijing from the landmark Forbidden City Wednesday morning.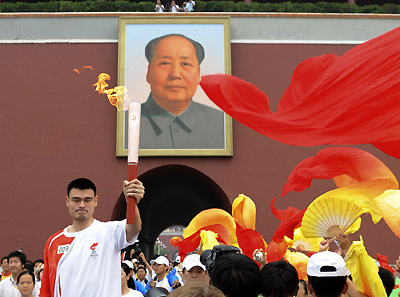 Torchbearer Yao Ming holds the torch as he runs through the Tiananmen Gate during the 2008 Beijing Olympics torch relay in Beijing August 6, 2008. [Agencies] 
At the Meridian Gate of the Forbidden City, the torch was handed over to the first bearer, Yang Liwei, the country's first astronaut, by Liu Qi, president of the Beijing Organizing Committee of the 29th Olympic Games (BOCOG).
Related readings:


 Spaceman Yang to launch torch relay


 Cao, 104, knocked off relay team

 Torchbearer sits on love for English


 Torch will illuminate history of Beijing
Red Chinese national flags and white flags of Beijing Olympics are flying over cheerful crowds who has gathered at the Tian'anmen Square since early morning.
"The flame came back to Beijing!" said Guo Jinlong, Beijing mayor, at the brief ceremony held at the small square in front of the 558-year-old gate, decorated by red carpet. "We can expect a successful end of the Journey of Harmony."
"Beijing is fully ready for the Olympic Games. The city is opening its arms to guests worldwide," he said. "We are eagerly waiting for the flame to be lit in the National Stadium."
The Olympic flame will travel in the Olympic host city for three days joined by a total of 841 torch bearers.
On its first day, the torch relay will cover 16.4 km in just over four hours through seven districts, passing city landmarks, including Tian'anmen Square, the egg-shaped National Center for the Performing Arts and Qianmen (the front gate). It will end at the Temple of Heaven.
Among the 433 bearers, 29 are foreigners, two from Hong Kong and one from Taiwan.
There are big names and ordinary people. Yao Ming, China's most popular basketball star, was the ninth bearer. Zhang Yimou, the famed film director and chief director of the Games' opening and closing ceremonies, also carried the torch on Wednesday.
After being lit at the birthplace of the Olympic Games in Olympia, Greece on March 24, the 2008 Olympics torch traveled to Beijing on March 31 for a ceremonial kick-off of its global trip.
Under the theme "Journey of Harmony," the relay lasted 129 days and took the torch 137,000 km through six continents, the longest distance of any Olympic torch relay since the tradition started at the 1936 Berlin Games.