In a bid to highlight Beijing's history and rich culture, the Olympic torch relay will start at the Meridian Gate Square of the Forbidden City tomorrow.
"The three-day relay will cover 39 km with 841 torchbearers participating," Sun Xuecai, deputy director of the Beijing sports administration, told a news conference Monday.
"The relay will display the capital's long history and rich culture, its modernization, including the transformations taking place in the countryside," Sun said.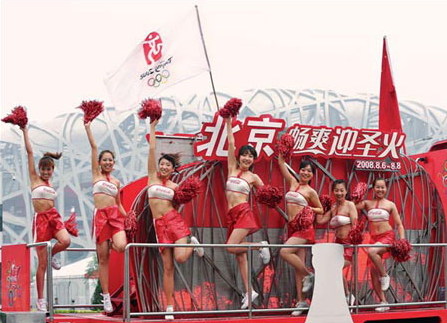 Cheerleaders dance on a Coca-Cola float near the National Stadium August 4 2008. The float had spent the previous 97 days traveling around China promoting the Olympics. It will join the Beijing leg of the torch relay tomorrow. [Xinhua]
"A celebratory ritual will be held in the Hall of Prayer for Good Harvests in Tiantan Park on the first day."
The 19 routes will cover 16 districts, two counties and the Beijing Economic and Technological Development Area.
The torch will be carried on Friday from the 101 Middle School at 12:59 pm to the National Stadium for opening ceremony of the 2008 Olympic Games.
"The clothes that I will wear during the torch relay look really nice," 14-year-old Ren Yi, the youngest torchbearer, told China Daily Monday.
"I will only run a few meters, but the experience will remain with me throughout my life," Ren said."
Dong Xuefa, who has worked as a cleaner in Beijing for 16 years, said: "I really appreciate being given this opportunity. All my colleagues are proud that a migrant worker from a small village can be a Beijing Olympic torchbearer.
"When my parents heard the news in Anhui province, they burst into tears, and many of my fellow villagers said they will share this honor with me."
Popular folk singer Song Zuying said being a torchbearer will be a good opportunity to further promote Chinese culture.