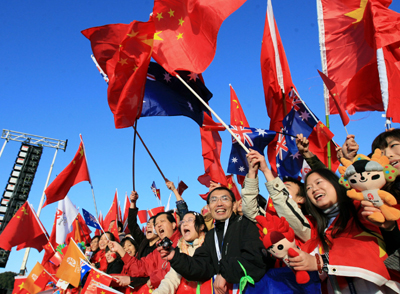 Oversea Chinese cheer for the Olympic torch relay in Canberra, Australia on Thursday, April 24, 2008. [Xinhua] 
"To be honest, I felt the uncertainty this morning but when I started off and walk through the emotions and excitement, particularly from the Chinese community and the Australian community in the spirit of Olympic, it was just fantastic," said an excited Major when she completed her leg of torch running.
"It is such an honor to be the first runner for the torch relay, " she said, "given the international spotlight today, to be the first runner of the torch relay is the top excitement for me."
While commenting on her dream towards the Beijing Olympics, Major said she hope the Beijing Olympics comes with peace and people are going out there to celebrate the spirit of Olympic.
After Major's first torch running, 79 other torchbearers concluded the 16 kilometers leg of torch relay peacefully in Canberra amid cheering crowds lining along the streets.
Last torchbearer and Australia swimming legend Ian Thorpe igniting the cauldron at the finishing point at around 11:30 a.m. Thursday (0130 GMT) at Stage 88 of the Commonwealth Park, concluding the only leg of torch relay in Oceania.
After the Canberra leg of torch relay, the sacred flame of Beijing Olympics will leave for Nagano of Japan for the 16th leg of torch relay overseas.