CANBERRA - As the lantern of the sacred Olympic flame appeared in front of the public amid first sun rays here Thursday, the Reconciliation Place in the Australian capital Canberra were immediately overwhelmed by cheers and screaming.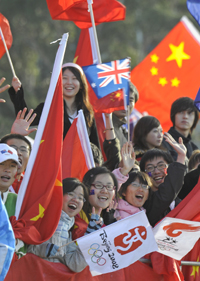 Oversea Chinese cheer for the Olympic torch relay in Canberra, Australia on Thursday, April 24, 2008. [Xinhua] 
"China, Go! Go! Go! Beijing, Go! Go! Go!," more than 10,000 audience around the starting point of the Canberra leg of torch relay shouted with great excitement.
The audience, many of whom were Chinese-Australians and Chinese students, had already lined up along the 16 kilometers route of the torch relay hours before the pre-dawn fireworks display at Lake Burley Griffin ahead of the official ceremony.
The excitement grew to a new height as Liu Jingping, a Chinese student studying at the University of Melbourne sang the national anthem of the People's Republic of China, drawing echoes and chorus from thousands of Chinese, who waved China's Five-star Red Flag and became tearful at the scene.
"I am very proud that the Olympic Games would be held in Beijing," said Annie Liu, a Sydney University student from south China's Hunan Province. "We are all proud to be a Chinese today and share our Olympic spirit with Australia people."
"Tibet was, is, and always will be a part of China," Xiao said, "thus any attempt to separate Tibet from China should be denounced and such separatist tricks in the name of Olympic are very despicable."
Xiao's comments were echoed by at least 10,000 people at the scene, which was flooded by China's red flags and supporting banners.
"(We) love China forever," read one banner. "Bravos, China," said another.
"No one can extinguish the spirit of the Olympic flame," said one placard.
"There are 56 ethnics (in China). No matter which I belong to, I love China as my Mum," said the other and numerous more.
Chinese unity and enthusiasm also moved local Canberrans who showed up at the starting pointing for the torch relay.
"I are surprised to see such a great number of Chinese here and I can feel their enthusiasm," said Chris Brand, "it was a beautiful thing actually."
Brand said she believe China will do well in organizing the Olympics because it is in China as Australian did in previous Games.
The first torchbearer Tania Major, Young Australian of the Year in 2007 for her work in indigenous communities, was also moved by the surroundings.