OLYMPICS
/
News
---
A dream to redeem
By Marc Checkley
chinadaily.com.cn Staff Writer
Updated: 2008-08-20 18:08
'Left-handed assassin' Michael Redd says the support of the Chinese fans has also been an inspiration for the team.
They've treated us like kings over here and it's remarkable how passionate they are about basketball. It speaks a lot about how basketball really has gone global – they know our stats they know everything it's great!"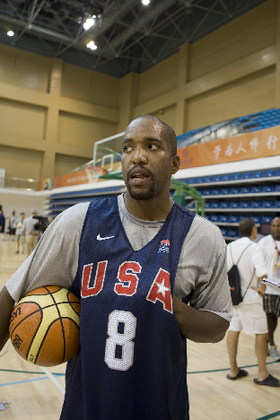 Straight-shooter Michael Redd is said to be the Dream Team's ticket to Olympic gold in Beijing. [photo Wu Chuanjing/chinadaily.com.cn]
Bryant also had positive words for the Chinese National team who go against heavy-weights Lithuania tonight.
"We have a legitimate chance of being their first opponents, they've done fantastic. I think they're just going to get better and better and over the next couple of years will move up to one of the elite teams."
Basketball's showdown is poised to be one of the most memorable Olympic finales ever, with the gold medal match one of the last events of the Beijing Games.
Who will be on the court? No one knows, but all hopes are on the hoop.