OLYMPICS
/
News
---
A dream to redeem
By Marc Checkley
chinadaily.com.cn Staff Writer
Updated: 2008-08-20 18:08
A throng of journalists filled Beijing Normal University gymnasium on Tuesday to get up close and personal with basketball legends the Dream Team.
It's the first time the media's been one-on-one with the US Olympic team since they arrived for the Beijing Games.
The team, which has beaten its five opponents so far by an average of 32.2 points, is now readying itself for a show-down quarter-final against Australia tonight.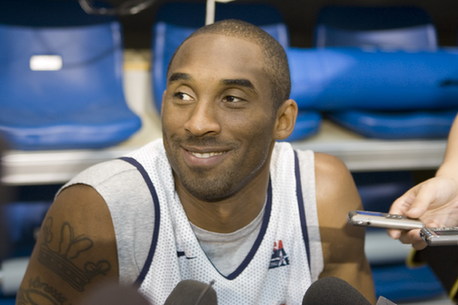 Basketball's megastar Kobe Bryant is amazed just how popular he is in China and is enjoying the Olympic experience in Beijing. [photo Wu Chuanjing/chinadaily.com.cn]
Said to be the toughest match yet, the Aussies lost by only 11 points to the US two weeks ago and got as close as seven points in the fourth quarter.
Although wary of the Australian defence, star player Kobe Bryant is confident of netting Olympic gold.
"Yeah we are but everybody else is too, so it levels the playing field and keeps our focus."
Head Coach Mike Krzyzewski says his team is ready for battle and at this Olympics the slate is wiped clean.
"In any of the games we play now the record of the other team is zero," says Krzyzewski before today's training session. "It really doesn't matter what went on before."
Krzyzewski says his team, who trudged home with bronze in the 2004 Athens Olympics, will not be so easily shaken this time.