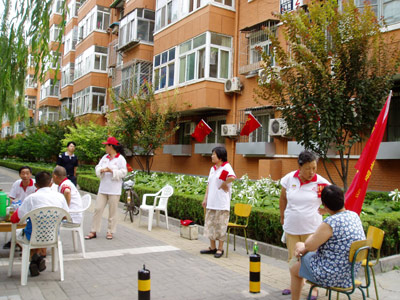 The security volunteers station along Huixin East Road, near the North Fourth Ring Road, August 1, 2008. [Tu Lei/chinadaily.com.cn]
Fu Ruiyun, 53, responsible for another community near Huixinli, said there are more than 80 volunteers in the two building yards. She stays with her colleagues every afternoon for two hours.
"We have no restrictions on volunteer numbers and each day we normally have nine persons stationed here, and 17 persons at most."
"Our volunteers did not leave even when hit by thunder showers last week," said Fu, "We have not experienced any problems to date but are always on the look-out for disturbances".
In Chaoyang district alone, the competition venues, contracted hotels and hospitals are key places for security. The district's administration built up 43 comprehensive administration centers by the end of July and the security network is covering streets and communities with the volunteers' numbers reaching 70,000, including those grandma vigilantes.
Currently, there are about 110,000 personnel, including police officers, army troops and volunteers in different professions dotted around Beijing's public and residential places. They also patrol the venues to ensure the security of the Games and are aided by 290,000 street patrollers. These security will be in place till 29 September.
Beijing's tight security measures are easily seen as the Olympics draws near. From anti-terrorism drills to halt of flights during the opening ceremony, Beijing is taking every possible measure to ward off potential security threats.
Monitoring and alarm facilities have been installed with personnel and vehicle security checkpoints erected. Armed police with dogs are performing round-the-clock patrols at the capital's four railway stations and more than 34,000 military personnel with 74 planes, 47 helicopters and 33 naval ships have been deployed to secure safety.
The gray volunteers cannot compete with so much military might but hope their work keeps their communities in order.
"Catching bad guys is a policeman's job but we're here to help out and drink more water to prevent us fainting in this sunshine," smiles Fu Ruiyun.