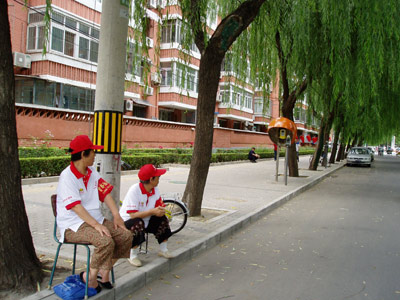 Two security volunteers sit along the Huixin East Road, near the North Fourth Ring Road, August 1, 2008. [Tu Lei/chinadaily.com.cn]

Li Fengqi, 65, sits alertly in the shade of a tree on a street corner with her 70-year-old counterpart Yang Fulan, watching passers-by.
It is half-past-two in the afternoon with a temperature of 30 degrees Celsius, and they have been sitting there patiently for half an hour.
"Mind the suspicious strangers," Said Li, "You see one smoking guy over there is glancing this way and that, watch him, and report to the police station immediately once something is wrong."
Three hundred meters away, there is another group in white and red T-shirts sitting at a community entrance. Like Li Fengqi they are all in the same uniform with "capital security volunteer" emblazoned in red on their backs and red armbands. They have been eyeing Beijing's streets for more than ten days.
Li Fengqi and Yang Fulan are from Huixinli Community in Chaoyang district, an area of 0.98 sq m near the North Forth Ring Road, and less than three kilometers away from the Bird's Nest.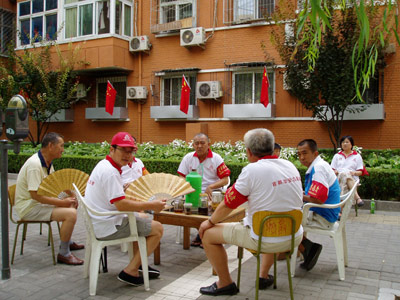 The security volunteers sit along Huixin East Road, near the North Fourth Ring Road, August 1, 2008. [Tu Lei/chinadaily.com.cn]
The community has 550 volunteers with an average age of about 50 years-of-age. They frequent the gates of their neighborhood from eight o'clock till eight in the evening, four hours each day per shift.
To beef up security for the Games, all the communities in Beijing are organizing volunteers, mostly the middle-aged or elderly residents who know their neighbourhood.
Usually, the volunteers in white T-shirts with red collar are responsible for the street safety, and blue T-shirts with white collar standing at the pedestrian crossing is for traffic safety.
"Most of volunteers are over 50 years old, even 70; we cannot say no to them," said Liu Xiaodong, director of the Huixinli Community. His telephone keeps ringing every two minutes. "They get no pay but we provide a uniform and some medicine for heatstroke."
"We received quite a lot calls for joining the volunteer group every day, even one grandma who has recently left hospital," added Liu.
For decades, Beijing has been known to have an army of neighborhood security volunteers, nicknamed "grandma vigilantes". They are often seen with red armbands in residential areas, even before the Olympic Games period. They check the community sanitation amenities and mediate neighborhood and family relations. They are important in maintaining the community security and stability.