When the 2008 Beijing Olympic Games kicks off Aug 8, a concurrent event may steal some of the attention while helping spread the Olympic spirit and culture and showcasing the history of the Olympic Movement.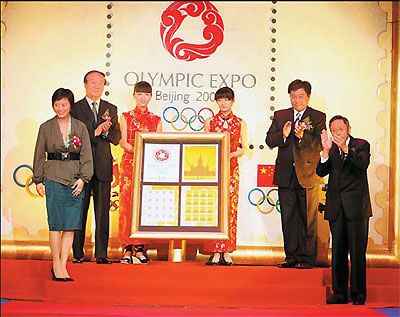 Li Hong, the IOC's Chief Prepresentative in Beijing (L) and Executive Vice-Presient of BOCOG Jiang Xiaoyu (second from left) at the launch ceremony of souvenir stamps for Olympic Expo Beijing 2008 on April 29. [China Daily]
Olympic Expo Beijing 2008, the first-ever expo of its kind to be held, is scheduled to run from Aug 8-18 at the Beijing Exhibition Center.
It is jointly sponsored by the International Olympic Committee (IOC), the Beijing Organizing Committee for the Games of the XXIX Olympiad (BOCOG), the Chinese Olympic Committee (COC) and China Post.
Stamps from 23 countries that have been specially issued for the Olympics, as well as coins, pins and works of art will be on display at the Expo.
One of the highlights of the assorted exhibits is the personal collection of Juan Antonio Samaranch, the IOC's Honorary President for Life. This will enable visitors to have a real feeling of friendship, peace and progress as well as understanding the Olympic motto of faster, higher and stronger.
Two stamps specially designed for the Expo were revealed on April 29 by China Post during a special ceremony presented by BOCOG Executive Vice-President Jiang Xiaoyu. The company also displayed its first folder of an exclusive stamp collection for the Beijing Games.
The four-folder "Official World-Wide Postage Stamp Collection for the Games of the XXIX Olympiad", an official product of the IOC, will include Olympic stamps specially issued for the Beijing Games from about 150 countries. Market response to the stamp collection has been positive, according to sources from the National Philatelic Corporation (CNPC).
People should not judge the stamp collection by its economic value as it carries unprecedented artistic, cultural, and historical significance, said Liu Yanming, general manager of the CNPC.
Contributions from Colorano Covers (USA) will add a western artistic flavor as well as increase the value of the huge collection. The world-class design company has made about 150 silk cachets to go with the stamps.
China has issued four sets of souvenir stamps on the Beijing Olympics since November 2005, showcasing every aspect of the Beijing Games, including the torch relay, Olympic venues, mascots, logos and sports events.
The souvenir stamps have become a hot collector's item both at home and abroad. Many are watching the rising economic value of the Olympic stamps. The first set rose to 20 times its original value shortly after it was issued, according to CNPC sources.