QOMOLANGMA BASE CAMP - The Chinese Mountaineering Team has been given a hero's welcome as they went down Mount Qomolangma to the 5,200-meter-high Base Camp after nine hours' trek on Friday.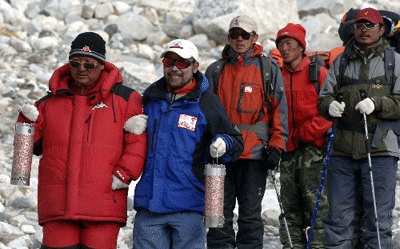 The Chinese Mountaineering Team go down Mount Qomolangma to the 5,200-meter-high Base Camp after nine hours' trek on Friday, May 9, 2008. [Xinhua] 
The 36-member team, who impressed the world one day earlier by sending the Olympic flame atop the earth's summit, came back to the 6,500-meter-high camp late Thursday and headed for the Base Camp at about 10 a.m. Friday.
"It is important to have them back here all safely, and this also means that we have finished the job successfully," said Li Zhixin, chief of the Base Camp headquarters of the torch relay Qomolangma leg. "You should not interview me, talk to them (mountaineers). They are real heroes."
A cheering crowd, mostly consisting of reporters and officials with the Chinese Mountaineering Association greeted the team, presenting each a hada, a traditional Tibetan scarf which means respect and loyalty. An official welcome ceremony will be held on Saturday.
The Olympic flame used for the torch relay Qomolangma leg was also brought back in the lantern before it is transported to Lhasa, capital of the Tibet Autonomous Region, on Saturday, waiting to join the main relay to be held in the capital in June.
"I feel so excited to carry the torch on top of the mountain," said team captain Wang Yongfeng, the second torch bearer in Thursday's grandiose relay. "It is a special connotation when you bring mountaineering and the Olympics together."
"I wish I could have shouted the slogan 'Light the passion, share the dream' during the relay, but when I held the torch I just felt a little bit worn-out," said the 45-year-old alpinist.
Gigi, a female Tibetan mountaineer who lost her husband, also an excellent mountaineer, in climbing, has never imagined that she could start the torch relay as the first runner.
"When I know that, I just could not sleep the night before, it is a thrilling experience.  I told myself to be slow and hold the torch high, I feared that I might look clumsy," said the 39-year-old Gigi.
"I will never leave mountaineering. If one day I could not climb the mountains above 8,000 meters, I will try some shorter ones. After retirement, I will stay with the team, trying to be a coach, " she added.