Jade, the stone of traditional Chinese cultural, will appear on the medals given out at the Beijing 2008 Paralympic Games. The Beijing organizers unveiled the design for the medals yesterday.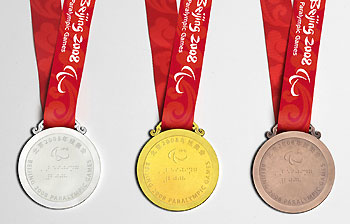 The reverse side of the medals given out at the Beijing 2008 Paralympic Games is seen in this photo taken on November 14, 2007. [Xinhua]

The design concept and pattern of the medals for the Paralympic Games are similar to the medals for the Olympic Games, with a jade disc set into each medal.
The emblem of the Beijing Paralympics lies at the center of the jade disc, and on the reverse side is the emblem of the International Paralympic Committee (IPC) and the name of the sports event, with "Beijing 2008 Paralympic Games" written in Chinese, English and Braille.
"The medals for the Paralympic Games meet the requirements of 'Two Games, Equal Splendor' and also perfectly capture the pure essence of the (Olympic) Games slogan, 'One World One Dream'", said Zhao Dongming, director of the Cultural Activities Department of the Beijing Organizing Committee for the Games (BOCOG).
Different kinds of jade are used for the gold, silver and bronze medals: white jade for the gold, gray-white jade for the silver and gray jade for the bronze.
The design of the medal hook also originates from jade huang, a ceremonial jade piece decorated with a double dragon pattern, and pu, a reed mat pattern.
According to Zhao, the material, weight, measurements and pattern of the Paralympic medals have followed the appropriate guidelines and met the approval of the IPC. The gold and silver medals are made with a base of pure silver and the gold medals are plated with no less than six grams of pure gold.
The design of the medals began one year ago. BOCOG invited three art design organizations - the Central Academy of Fine Arts, the Academy of Fine Arts at Tsinghua University and China Banknote Printing and Minting Corporation - to submit design proposals.
The final winner, from the Central Academy of Fine Arts, was selected from a group of 21 candidates. Artists at the academy were then put in charge of refining and improving the design.
BOCOG approved the design on September 20 and IPC gave its final approval on October 11. Zhao said IPC congratulated BOCOG on its choice of design in their confirmation letter.
BHP Billiton, the Beijing 2008 Paralympic medal sponsor, will provide raw materials for the medals.
As announced by officials from BHP Billiton, the company will produce 1,000 units of each medal as well as some 10,000 commemorative medals for the Beijing Paralympic Games.
The Beijing 2008 Paralympic Games will open on September 6, 2008.