Yunnan's Kuoshi Festival: a joyful celebration of life
Updated: 2012-01-05 16:21
| | | | | | | | | | | |
| --- | --- | --- | --- | --- | --- | --- | --- | --- | --- | --- |
|   | | Comments() | | Print | | Mail | | Large Medium  Small | 分享按钮 | 0 |
In Yunnan province, renowned for its perpetual spring-like climate, the Lisu people in Nujiang Lisu Autonomous Prefecture are celebrating their most important festival—the Kuoshi Festival.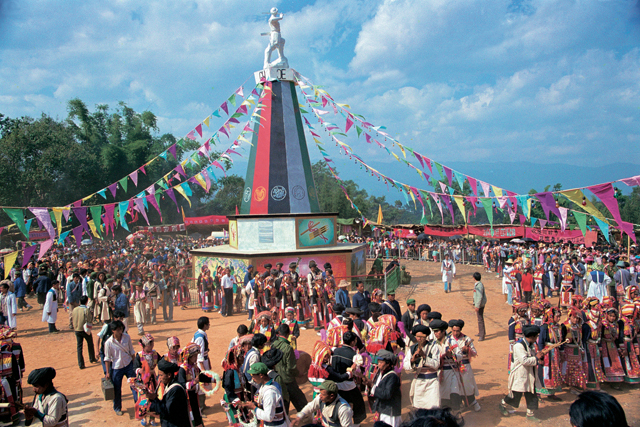 In Lisu language, "Kuo" means "year and "Shi" means "new." For the Lisu, the festival is equivalent to the Spring Festival celebrated by China's majority Han population. Officially, the festival lasted for three days from Dec. 20-24, but the festivities in Nujiang can last for an entire month.
Fugong County, part of the Nujiang Lisu Autonomous Prefecture, has one of the largest concentrations of Lisu people. Early in the morning on the first day of the festival, local Fugong County residents crossed abridge to a nearby river beach in traditional ethnic costumes. By daybreak, the beach was filled with revelers. The county staged a series of competitions and ceremonies for festival-goers, including bamboo-pole climbing and crossbow shooting.
In perhaps the most enchanting game of the festival, young couples buried themselves together in the beach sand. In this long-standing tradition among the Fugong people, couples first dig a pit in the sand, then friends place them into the pit and "bury" them. The ritual represents the couple's love and devotion to each other and the wish for a long and healthy life, and staying together even in death.
At the festival, locals brewed rice wine on the sand. To make the wine, they built campfires and set iron kettles on top of the fire. Then they pounded corn, sorghum, buckwheat or barnyard millet into pieces and steamed them. After the wine is boiled, they used a piece of gauze to filter the wine. When they drink, they prefer two people to share the wine out of one bowl, which is called "heart-to-heart" toasting. This is deemed the highest honor offered by the Lisu people to drink wine, with faces touching faces, and even mouths neighboring mouths. It shows the intimate kinship between hosts and guests.
People sang, danced, and drank on into the night, in an ethnic carnival that truly showcases the colorful lifestyle of the Lisu people.