Chinese V-Day Parade impresses Xinjiang people
By Li Xiaoxu ( chinadaily.com.cn )
Updated: 2015-09-07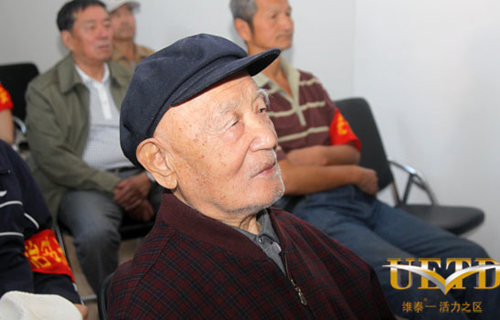 Wan Juquan, a 90-year-old retiree of Xinjiang Bayi Iron and Steel Co. watches the live broadcast of V-Day Parade. [Photo/uetd.gov.cn]
The V-Day Parade in Tiananmen Square marking the victory of the World War II excited people in Urumqi's Economic and Technological Development Zone, in the Xinjiang Uygur autonomous region, where residents gathered for the live broadcast on Sept 3.
The parade greatly impressed the spectators, including Wan Juquan, a 90-year-old retiree of Xinjiang Bayi Iron and Steel Co. Wan said that it was not easy for our nation to enjoy the present prosperity since Chinese people have "suffered starving and fought hard against the aggression in the old days."
Watching fighter planes during the military parade, Zhao Chunlin, one of Bayi Company's first workers, recalled, "at Bayi Company there used to be an aircraft repair factory which assembled fighter planes for Chinese troops during World War II."
"With the development of our country, steel output has risen markedly from around 300,000 tons per year during the initial post-liberation period to more than 800 million tons today," said Zhao.
A staff member at the community office said the grand parade made him realize the importance of national unity for a more prosperous country.
Edited by Andrew Ancheta