Xinjiang to Beijing on foot no mean feat
( China Daily )
Updated: 2017-07-07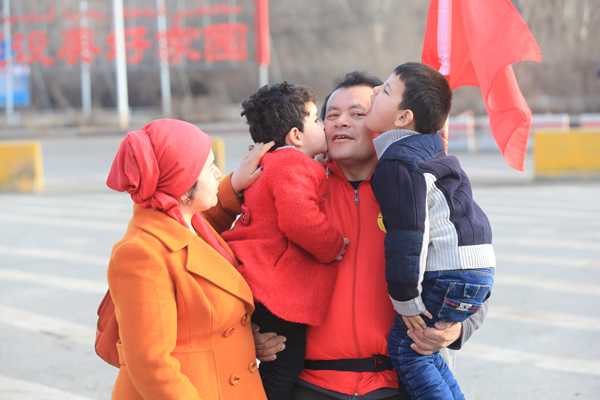 Ablajan Muhtar with his wife and children before beginning his hike to Beijing from Urumqi, the Xinjiang Uygur autonomous region. [Photo provided to China Daily]
Ablajan Muhtar, owner of an auto repair factory in the Xinjiang Uygur autonomous region, could choose to fly to Beijing in three hours. Instead, he has begun a three-month journey on foot for a benevolent cause.
The 43-year-old started his trek in the regional capital of Urumqi on April 8, and is planning to arrive in Beijing this month.
Muhtar is hoping to raise more than 200,000 yuan ($29,000) to be donated to 10 schools in Xinjiang to help them build soccer fields and purchase equipment for students and soccer coaches.
"In addition to collecting donations, I have another mission-spreading the good virtues of local people during my journey to Beijing. I want people across China to learn about the generosity, hospitality, tolerance and sense of unity that people in Xinjiang possess," he said.
Inspired by the well-known national legend of 75-year-old Uncle Qurban, who ventured from the region to Beijing in 1956 on the back of a mule to meet Chairman Mao, Muhtar decided at the beginning of this year to make the same journey.
He spent three months preparing for his trip. "This is my Chinese dream. I will overcome all the obstacles I face to accomplish my dream."
Completing the 3,282-kilometer journey on foot will not be easy. The route will see him pass through numerous different environments and spans five administrative areas from Xinjiang in Northwest China to Gansu province, and then on to the Inner Mongolia autonomous region and Hebei province in North China before reaching Beijing.
According to the design of the route, Muhtar must pass through a more than 100-km section of desert and an unpopulated area of more than several hundred square meters, as well as climb over the Qinling Mountains in Central China.
For most of the journey, he must live in a tent that he will carry in his 1-meter-tall backpack.
Bokram Elyashanbaba, a photographer and friend of Muhtar, said the journey will push him to his limits and is of important significance because of the connection to Uncle Qurban.
"We need to witness another exemplary deed in our time. I have full confidence in Muhtar to accomplish his dream," Elyashanbaba said.
Muhtar's wife, Patima Mamat, said she fully supports the endeavor.
"My husband has always loved hiking. When he talked to me about his first hiking experience from Urumqi to Atux in Xinjiang, I felt a mixture of happiness and concern for him," Mamat said.
"When he told me he will make 100 new friends during this trip, I could sense his determination," she said, adding that his latest adventure is significantly longer than his first one. "He has my full support and encouragement."
In May, Muhtar walked through an area with gale-force winds in Turpan, once a crossroads of Central Asia and a strategic stop on the overland trade route linking China with ancient India, Persia and Rome.
"Each step required a lot of strength and my face was being slammed by waves of sand blown up by the strong gale," he said, adding that sand blew into his mouth and he had to crouch down to protect himself.
"I am aware that the journey will be extremely tough. The valley ahead is located between a wild desert and mountains. However, I think I will manage to get through it."
Muhtar, whose trip will cost an estimated 20,000 yuan, is being sponsored by a charity organization founded in September by Wang Long, a native of Xinjiang who was presented with a Good People in China award for his bravery in saving people from a fire.
In each city that Muhtar travels to, the organization will assist him in publicizing his cause to help raise money for schools. In addition to helping with Muhtar's trip, it also regularly organizes donations of books and others materials for children in need.