Lecture on landmark anti-domestic violence law raises awareness among Urumqi residents
( chinadaily.com.cn )
Updated: 2016-03-29
A lecture aimed at informing residents living in the Urumqi State High-tech Industrial Development Zone of the country's first anti-domestic violence law was recently arranged by the zone's authorities.
Mediator Hu Yan was invited to explain the parameters of the law, which took effect on March 1. Hu detailed the definition of domestic violence and taught participants how to prevent and obtain evidences of domestic violence by citing real cases.
She also gave tips on how to deal with conflicts between husband and wife and outlined who victims of violence should turn to.
The lecture was designed to improve self-protection awareness, help people understand the harms caused by domestic violence and the help available to those suffering from it.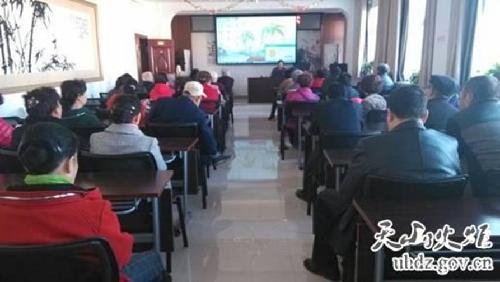 Lecture on anti-domestic violence law is held at the Urumqi State High-tech Industrial Development Zone. [Photo/uhdz.gov.cn]
Edited by Jacob Hooson