Shanxi University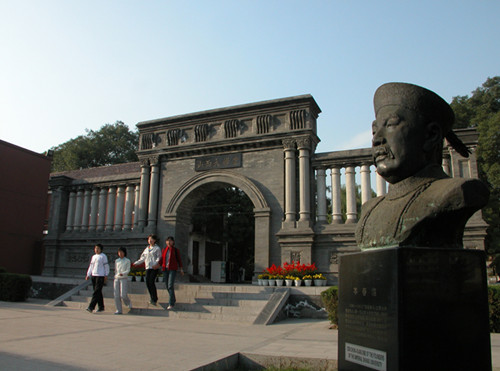 Shanxi University, established in 1902, is in Taiyuan, the capital of Shanxi province, which has a history of 2,500 years. The school itself can be traced back to Sanli College, of the Ming Dynasty (1368-1644), and Jinyang College and Lingde College, of the Qing Dynasty (1644-1911). In its early period, the school worked on integrating Chinese culture and Western culture and the arts and sciences. It had great flexibility in its management and advanced educational ideas, and was a cradle of higher education in China and a crucial center of culture, science, and education in Shanxi province for more than 100 years.
It survived the War of Resistance against Japanese Aggression (1931-1945), was relocated during the War of Liberation (1945-1949) and had a restructuring in 1953. Throughout all this, it maintained its tradition of "Knowing both East and West, seeking goodness and truth, valuing virtue and talent, and strengthening oneself and serving the country. It developed a school spirit of diligence, strictness, honesty, and creativity and had produced some excellent people for China and has contributed a lot to the cause of educating people and revitalizing the nation.
The past 119 years have been significant, especially after China's opening up and reforms of three decades ago, and the school has developed into a comprehensive university of the arts and sciences, with clear guidelines and great potential, with the country's emphasis on science and education. In 1998, it became a key university with provincial government backing and, in 2003, got excellent marks for its undergraduate teaching from the Ministry of Education. In 2012, it joined a national program, "Promoting the comprehensive strength of colleges and universities in Central-west China", becoming a new State-funded site for university development with distinct characteristics.
The campus covers over 200 hectares, with 110 hectares of construction areas, and has three parts: a north part characterized by an elegant, traditional design, a southern one with stylish modern buildings, and the under-construction Dongshan campus . It has 1.19 billion yuan worth of teaching and research equipment and the library contains 3.05 million books and 1.14 million e-books. It gained a Green Gardenlike School award from the provincial government and has a very human, serene atmosphere that is suitable for both study and living.
It covers 12 academic fields, with 86 undergraduate specialties and seven undergraduate double-majors. There are three academic worksites, 14 post-doc research sites, 19 disciplines offering doctoral degree, and 43 disciplines offering master's degree. It also has two special PhD cross-disciplines that are not included in the Education Ministry's catalogue of disciplines.
It has key State-level laboratories, Education Ministry laboratories, Education Ministry humanities and social sciences research bases, and an Education Ministry approved engineering research center, giving it a solid academic and scientific research foundation. It also handles important national 973 Projects, national 863 Projects, and projects funded by the National Natural Science Foundation, and the Social Science Foundation, 16 of which have won awards, including a national Natural Science award, national Technological Innovation award, national Scientific and Technological Progress award, Outstanding Achievement in the Humanities award from the Education Ministry, a Social Sciences award for Chinese Higher Education Institutions, and an Education Ministry Natural Science award.
Confucius Institutes

The Confucius Institutes are set up worldwide by the Chinese Language Council International to promote Chinese language and culture.

Enrollment of Foreign Students in Shanxi University

Join us and explore our wide range of study programs and enjoy a first class educational experience that makes you a part of a lively global community.