Pingyao sponsors retaking the Prairie Silk Road program
Updated: 2015-03-19
( chinadaily.com.cn)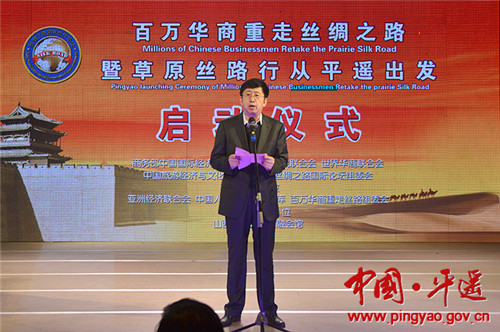 Cao Zhisheng, Pingyao's head deliveries a speech
China has many contacts with foreign countries over the past several-hundred years and the Prairie Silk Road was one of the first routes which included the Tea Horse Road, Xi'an-West Asia Silk Road, Maritime Silk Road, and the more modern Land-Sea Silk Road and Shanxi merchants owed their success to the road, with a business that evolved from the salt trade to finance, during the Qing Dynasty (1644-1911).
And Pingyao was a birthplace of Shanxi merchants and businesses for northern China, with the ancestor of China's banking system and an influence as far away as Europe, the United States and Southeast Asia. This Chinese Business People Retaking the Prairie Silk Road is a joint program of the Commerce Ministry's International Economic Cooperation Society, the World Presidents Federation, the World Chinese Entrepreneur Association, China Tourism Economy and Culture Industry Research Institute, and the Silk Road international cooperation forum.
Wantuo, a type of noodle from the Qing Dynasty (1644-1911), is one of Pingyao's local snacks with a long history.