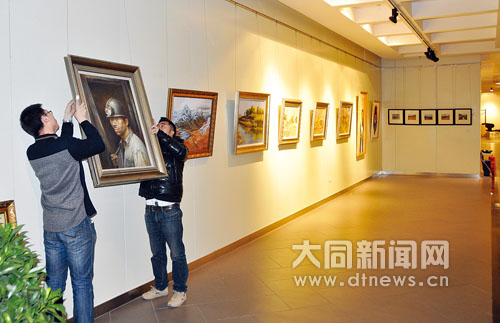 Heyang Gallery staff members, in Datong city, arranging art exhibition, on Dec 29. [Photo by Shui Fu and Rong Yuren/dtnews.cn]
An art and calligraphy exhibition to welcome the New Year is being arranged in the city of Datong, Shanxi province, where they have selected 400 works from the public for show at the Heyang Gallery, Jan 1 – 7, to mark the starting of an entire culture series that planned for the city.
Song Xiaoqi, curator of the city's People's Arts Museum, said the event began earlier this month with wide public support and, by Dec 25, had received more than 800 submissions from professional and amateur artists in the city, some of them from members of major associations, and some from city government, enterprises, schools, and arts academy grads.
The works range from landscapes and scenery to birds and flowers, to portraits to the daily lives of local miners and farmers.
Edited by Roger Bradshaw