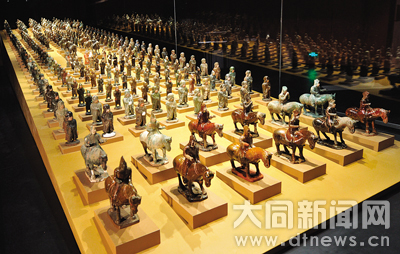 Terracotta warriors from Northern Wei tomb, in Datong City Museum [Photo by Rong Yuren/dtnews.cn]
After years of hard work, some terracotta warriors unearthed from the tomb of Sima Jinlong, a member of the nobility of the Northern Wei Dynasty (386~557) in the city of Datong,
Shanxi
province, are in good enough condition to be exhibited in the new City Museum.
Museum staff members have said that 238 of the figurines made of glazed pottery will go on display as the largest array of Northern Wei terra cotta warriors ever discovered. They are about 30 centimeters tall and represent six social classes, each with a different facial expression and posture, with various weapons.
Cao Chenming, a vice-curator, explained that the tomb, belonging to Sima and his wife, members of the nobility, was accidentally discovered by farmers who were digging a well. The Sima family won many battles for the king and was honored for their work, so, when he died in the year 484, he was buried with many funerary objects. And even after it had been broken into many times, there were still more than 450 items that modern archaeologists discovered. In 2005 and 2010, the City Museum organized two large campaigns to repair the treasures, using historical records and wall paintings in the tomb.
Edited by Roger Bradshaw