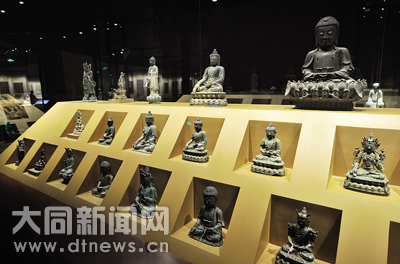 Corner of the Buddhism salon, City Museum, Datong, Shanxi, on Dec 23 [Photo by Rong Yuren/dtnews.cn]
The City Museum of Datong, Shanxi province will open soon with a special salon of Buddhist figures from the Liao (907-1125) to the Ming (1368-1644) and the Qing (1636-1912) dynasties discovered in the city, a capital of Buddhist culture in early China. The 18 carved stone figures of different sizes are at the entrance of a salon, from the city's Huayan Temple, built during the Liao. Two more Buddhist statute groups are made of wood and clay, along with many other unique figures.
The city's contact with Buddhism started back in the Northern Wei Dynasty (386-577) when the Tuobagui emperor chose the city, formerly known as Pingcheng, as a capital. Then, for the next 1,500 years, there was grotto work and the making of Buddhist statues, both among the royal family and the common folk, leaving a rich body of Buddhist relics.
The salon also contains an introduction to Buddhism as a good way for people to learn more about it.
Edited by Roger Bradshaw