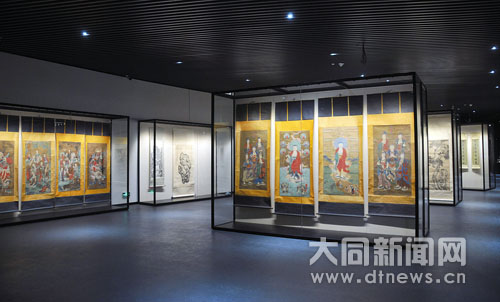 Classical paintings hall, City Museum of Datong [Photo/dtnews.cn]
The Yudong district of the city of Datong, Shanxi province expects to open an exhibit of 4,000 items in different halls to the public soon in the new City Museum in the new town area which is taking on a cultural, historical air.
The museum covers a 50,000-square–meter space with a 10,000-square-meter exhibition area. At the entrance, it has a large wall painting of nobility form the Northern Wei Dynasty (386-557), in a scale that matches the tombs from that period, near the city. The art, which is the work of two China Central Academy of Fine Arts professors, Sun Jingbo and Wang Yingsheng, is 15.5 meters high and 50 meters wid. Beneath it there are iron and bronze sculptures, to convey the image of Datong as the starting point of the Silk Road, a historically important route linking China with Central Asia and the Mediterranean.
Staff member placing dinosaur fossils in the City Museum of Datong [Photo/dtnews.cn]
The first floor hall is for dinosaur bones discovered around the city and gives you a feeling of passing back millions of years to the Jurassic Age, while the staff are hard at work arranging the dinosaur fossils. Other areas cover other historical periods, up through Northern Wei, to the Liao, Jin, Ming and Qing dynasties.
The 4,000 articles to be exhibited have been selected carefully from an incredible 70,000 relics in the city collection. Museum staff are also working overtime installing other facilities such as elevators and barrier free passages, to welcome the first guests.
The local evening newspaper describes the museum architecture as brave and innovative and absorbing the city's unique nature and culture, including the volcanic landscape and Yungang Grottoes. There is also an interactive area to engage visitors more, with cultural activities and games, as well as a 5D theatre.
Edited by Roger Bradshaw
More stories:
A new Datong by night
New Datong landscape