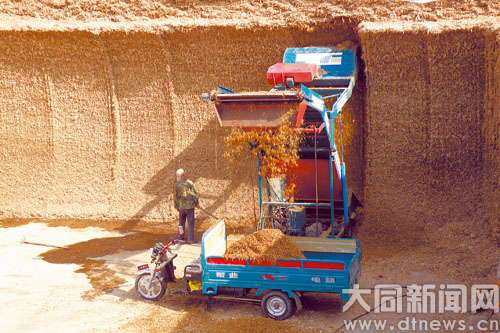 Farm worker using a machine to turn cornstalks into cattle fodder. [Photo by Liu Fuqiang/dtnews.cn]
A cattle farm in the city of Datong, Shanxi province, is acting as a pilot zone for an integrated approach to agriculture that is intended to make the most of each and every product on the farm as a self-sufficient unit.
The farm built a 5,000-square-meter silage pool to process cornstalks for use as cattle fodder, to avoid the old routine of burning the cornstalks, which can harm the environment, while providing food for the cattle. The owner of the farm explained that this attempt could help him cut costs, while other more scientific approaches to agriculture have brought greater profits to local farmers.