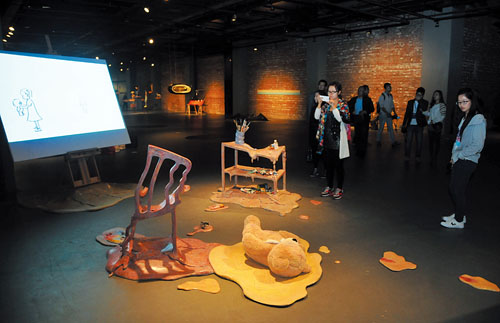 Visitors enjoy a piece of statuary work in the City Sculpture Museum of Datong, Shanxi province, Sept 28 [Photo / chinadaily.com.cn]
The exhibition of works by Zeng Zhushao Sculpture Scholarship winners was opened to the public in the City Sculpture Museum of Datong, the capital of Chinese sculpture in Shanxi province, on Sept 28.
The exhibition, lasting for two months until Nov 28, has a collection of 340 pieces of sculptures, an intense arts feast for visitors. The country's renowned sculptors, as well as 116 fresh graduates of statuary arts from 18 fine arts institutes in China attended the opening ceremony of the exhibition.
The exhibition is quite authoritative with high academic standards, and it is the fourth time of it being hosted in Datong. All the works displayed were selected from the final projects of this year's arts graduates, some of whom were invited as special guests by the scholarship committee.
Five prize winners were awarded the scholarships at the ceremony.
The works exhibited make use of a variety of materials, such as coal, resin, glass, and stainless steel, and are of different styles.