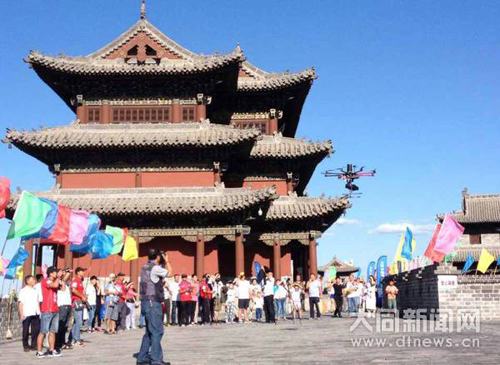 Visitors watch the air show on the city walls of Datong, Shanxi province, on Aug 24. [Photo/dtnews.cn]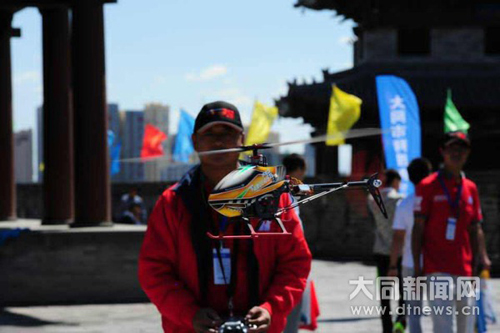 A staff member at the auto festival operates a model plane in Datong, Shanxi province, Aug 24. [Photo/dtnews.cn]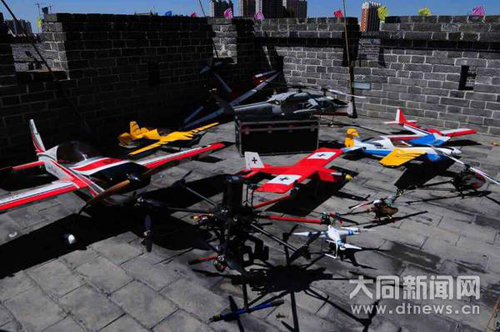 A close-up of the model planes landed on the city walls of Datong, Shanxi province, Aug 24. [Photo/dtnews.cn]
A model airplane exhibition lightened the skies over Datong, North China's Shanxi province, during the auto festival.
The model planes undertook a variety of difficult actions under the remote control of skilled staff. Compared with a traditional model airplane show, these models have more degrees of freedom, and can take on many actions that real aircraft could not carry out.
All the models at the show were from Xiangying Aero Club in the city. The members of the club contributed the models they collected to the auto festival, sharing their experience of operating the models.
The air show is on at 9 am and 3 pm each day, over the ancient city walls in the south. Each show lasts for half an hour.