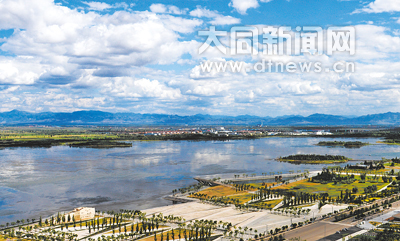 Blue skies and white clouds are seen at the Wenying Lake Eco Park in Datong city, Shanxi province. [Photo by Zhang Wenbin/dtnews.cn]
Datong city in North China's Shanxi province has actively dealt with dust and coal-fired boilers since the beginning of this year. The city has promoted the use of environmentally-friendly coal among residents living in one-story houses. Its efforts have helped upgrade the local air quality.
Up until August 14, the city had witnessed 176 days with good weather, 38 days more than the same period last year. It stood out on top in Shanxi province, according to the Municipal Environmental Protection Bureau.
Dust severely affects air quality, so Datong has formulated a special implementation plan this year to deal with the flying dust pollution. The city requires construction sites of urban housing and municipal infrastructure projects to carry out strict dustproof measures. It also advocates the use of environmentally friendly coal to reduce urban pollution.
The city has equipped more than 3,000 special furnaces to use environmentally-friendly coal so far, and has also sold 3,000 tons of environmentally-friendly coal. It has closed 27 raw coal sales points in the old city conservation area.
What's more, the city has also removed 94 coal-fired boilers in a no-fly zone during the first half of this year, and 71 coal-fired boilers in the Datang Road, and Pingwang and Kouquan areas. A number of small boilers were replaced, helping to ease the pollution caused by burning raw coal.
Meanwhile, motor vehicle exhaust pollution controls and clean fuel popularization are also underway. Local government has designated specific barbecue areas, where fume discharge equipment has been installed. It also stepped up supervision efforts to ensure barbecue fumes are kept under control. In addition, the government launched a 100-day battle against environmental violations in March this year.
To date, the city has collected 87 leads on illegal operations, including three criminal cases, and fined 13 companies, urged 13 to address existing problems within a fixed deadline and banned 61.
Those measures have played a significant role in improving Datong's air and environmental quality. The local government will strive to develop the city into an ideal living place.