A newly adapted historic opera, Zi Pao Ji (or The Tales of the Purple Robe), was performed at Beijing's Mei Lanfang Theatre. The opera, presented by the Peking Opera Academy from Northern China's Shanxi province, made its debut in Beijing on July 7.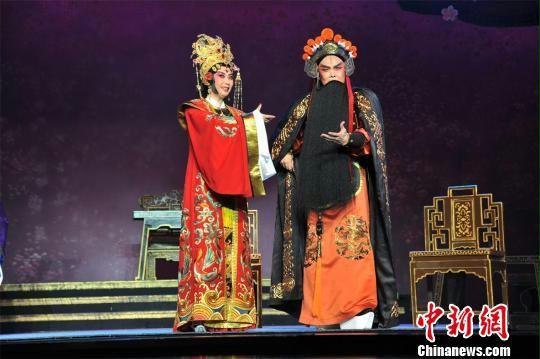 Staging shot of Zi Pao Ji, at Beijing's Mei Lanfang Theatre on July 7, 2014. [Photo / Chinanews.com]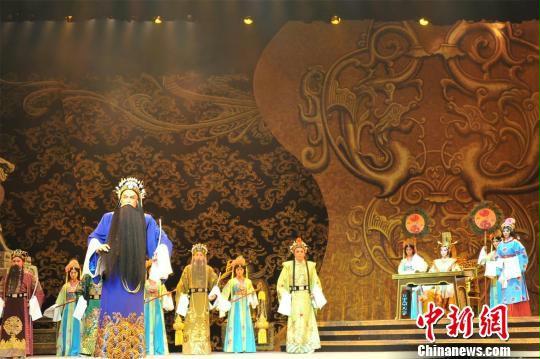 Another staging shot ofZi Pao Ji, at Beijing's Mei Lanfang Theatre on July 7, 2014. [Photo / Chinanews.com]
Zi Pao Ji tells the tale of Empress Wu Zetian (AD 624-705, the first and only female empress in Chinese history)and her most famous chancellor, Di Renjie (AD 630-700) during the Tang Dynasty (AD 618-907). When Wu Zetian succeeds to the throne, she seeks to kill all members of the royal family with the surname Li – her husband's family whose ancestors had founded the dynasty. But Di, governor of a prefecture, suggests a simpler solution and prevents a larger massacre. Empress Wu awards him with a royal purple robe. Di continues to use his wisdom to assist Empress Wu in governing the Tang Dynasty for the rest of his life.
The two were both close friends and political companions who created the flourishing age of Wu Zetian. With the purple robe shown throughout, the story presents the struggles and triumphs of these two extraordinary people.
Zhang Zhi, president of the Shanxi Peking Opera Academy, said the staff hopes the audience will see these historical figures in a new light. There's much to learn from them: despite their political differences, they have a common goal to better the lives of their citizens.
The opera's outstanding cast is directed by Xie Pingan. Zhou Changfu is the writer and Ran Changjian, a professor at the National Academy of Chinese Theatre Arts, works as the operational director.
The Shanxi Peking Opera Academy's musicians perform with the Shanxi Symphony Orchestra for the opera's musical accompaniment. The show has incorporated new styles of singing, costumes, music and dancing, all to make a visual and musical feast for the audience.
Shanxi highly values its operas and hopes to be honored as the best national stage art project at the 7th Peking Opera Arts Festival.