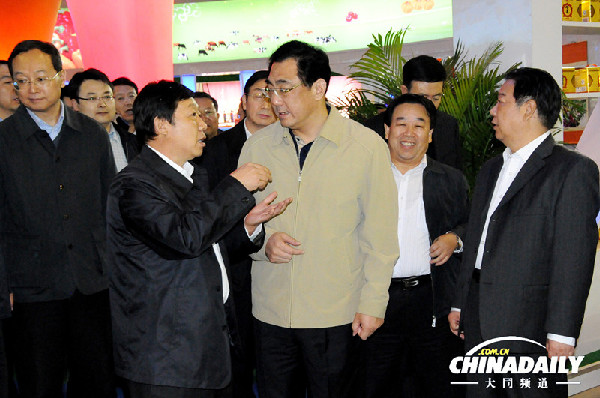 Guo Yingguang, Shanxi's vice-governor, speaking with Datong leaders in the Datong exhibit area, at the 3rd China Agricultural Products Trade Expo, Oct 16-20, in Shanxi.
The curtain goes up on the 3rd China Shanxi Agricultural Products Trade Expo, Oct 16, in the province's coal transaction center. The booths for the city of Datong alone cover 793.6 square meters, with more than a hundred products from 54 local companies on display.
The commodities and sales site for Datong alone cover 180 sq m outside. The booth inside will cover 695 sq m of a specially decorated area for different counties and districts of Datong to promote its image.
Meanwhile, Datong has signed many trade projects. To date, contracted capita has totaled nearly 3.8 billion yuan, with 3.03 billion yuan for an ecological breeding project for 1 million pigs, 388 million yuan for a Yanggao Jiarun ecological forestry demonstration garden, and 100 million for a Yanggao North Four Seasons pasture development.
The Ministry of Agriculture, Shanxi government, China Supply and Marketing Federation, and China Council for the Promotion of International Trade are the hosts of the affair, with various provincial level agencies helping out.
Edited by Roger Bradshaw