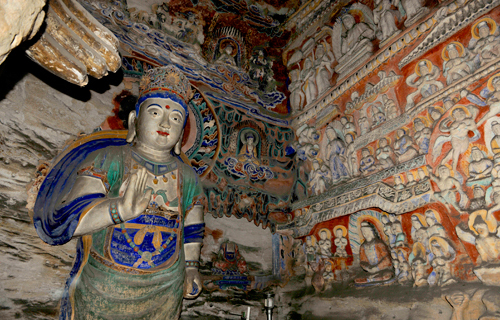 Yungang Grottoes were chiseled during the Northern Wei Dynasty (AD368-534). It was the first large-scale royal grotto project that was constructed by the state since Buddhism was introduced to China during the Han Dynasty (BC202-AD220).
It is regarded as the highest achievement ever since the Buddhist art spread eastwards. It was announced by the State Council as one of the national key cultural relics in 1961, and was included by the UNESCO into the World Heritage List in 2001. In 2007, the National Tourism Administration named it a 5A-class (the highest grade) national tourist attraction.
Finished in 64 years, Yungang Grottoes is composed of 254 caves, including 45 major ones, stretching one kilometer from west to east. There are more than 1,200 niches for Buddha statues, which cover an engraving area of 18,000 square meters.
Among the existing 51,000 Buddha statues, the biggest one is 17 meters high, while the smallest is only two centimeters.