'City of Dreams' brings down the curtain of Lujiazui Cultural Festival
Updated: 2017-12-01
( chinadaily.com.cn )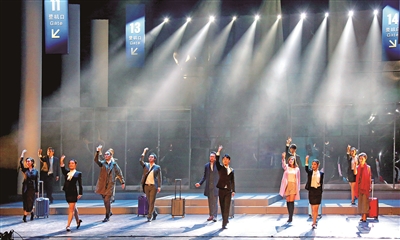 White-collar workers from Lujiazui Financial City perform an original musical titled City of Dreams at Shanghai Original Art Center. [Photo/Pudong Times]
The eleventh Lujiazui Financial City Cultural Festival drew to a close with the premiere of the musical City of Dreams at Shanghai Original Art Center on Nov 28.
An original musical written by and starring real white-collar workers from Lujiazui Financial City, City of Dream centers on the lives of real people living and working in Shanghai's financial hub.
"It is the first time in Shanghai that white-collar workers have written their own stories and played it all by themselves," said Yuan Yefeng, an official at Lujiazui authority in the Shanghai Free Trade Zone.
Lujiazui has also organized an array of other activities to entertain its white-collar workers over the course of the two-month festival, such as the second "Voice of Lujiazui" singing competition, an exhibition of traditional Tibetan paintings titled Light in the Land of Snow, and a "vertical marathon" where contestants have to race up the staircases of the city's tallest skyscrapers.
As the most influential cultural activity in this area, Lujiazui Financial City Cultural Festival has stepped into a higher level where white-collar workers go from passively appreciating art to actively performing it.
To promote culture in the financial industry and enrich the lives of its white-collar workers, relevant authorities of Pudong New Area and Lujiazui together launched "Cultural Lujiazui" activities in September, 2014.
Lujiazui Financial City will continue to bring warmth and a sense of belonging to its white-collar workers through a series of high-quality cultural activities, according to Lujiazui authority.