Finnish glass art dazzles Pudong visitors
Updated: 2017-10-18
( chinadaily.com.cn )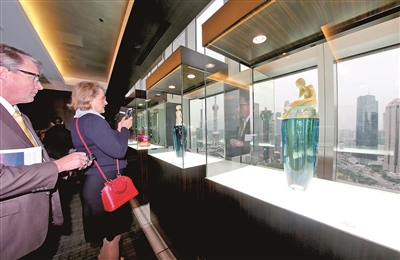 Visitors admire glass art works displayed at the Yunjian Art Museum in Lujiazui, Pudong, Shanghai, on Oct 12-27. [Photo/Pudong Times]
Ritva-Liisa Pohjalainen, a master Finnish glassblower, opened an exhibition at the Yunjian Art Museum in the Shanghai World Financial Center in Lujiazui Financial City on Oct 12. The exhibition will end on Oct 27.
It displays 52 glass art works that the great Finnish artist created together with Pino Signoretto, an Italian glass art master.
Ritva-Liisa's works feature bright colors and transparent glass, and exemplify a pure Northern European design style.
The works on display reflect various themes such as "Four Seasons in Finland" and "Children of Finland", and depict the country's beautiful scenery as well as the power of beauty and love. Visitors to the exhibition have an opportunity to understand the country with no need to travel so far away.
A key part of the 2017 Pudong Culture and Art Festival, the exhibition celebrates both the 5th anniversary of the establishment of a friendly relation between Shanghai's Pudong New Area and Finland's Kuopio city, and the 100th anniversary of Finland's independence.
A photo and video exhibition to promote the city of Kuopio has also been launched alongside the glass art exhibition as part of the celebrations.
Sari Raassina, first deputy City Council chairman of Kuopio, visited Pudong on Oct 12 for talks with Lu Fangzhou, deputy head of Pudong, on further mutual cooperation in education, culture, and scientific technology.
Zhu Di, deputy head of Pudong, pointed out that the status of Kuopio as Finland's innovation center and Pudong's as a pioneer for China's reform and opening up makes the two a perfect match.
Kuopio, eighth largest city in Finland, is a regional cultural, educational, and economic center. It has maintained a good relationship with Pudong over the past decade which was officially recognized in 2012, resulting in signing of a memorandum of understanding a year later. Over the past four years Pudong and Kuopio have shared many cultural exchanges.