Art of autumn exhibition opens in Lujiazui
Updated: 2017-10-16
( chinadaily.com.cn )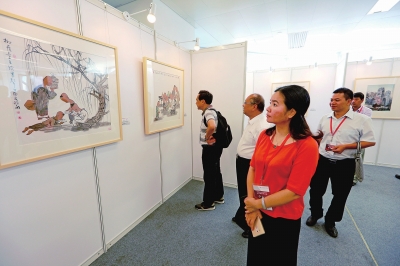 Visitors admire Chinese paintings displayed at the Art of Autumn in Jiangnan exhibition in Lujiazui Financial City, Pudong New Area, Shanghai. The exhibition runs Oct 10-17. [Photo/Pudong Times]
A Chinese painting exhibition titled Art of Autumn in Jiangnan opened in Lujiazui Financial City in Shanghai's Pudong New Area on Oct 10.
The exhibition of 120 Chinese paintings focuses on depicting the beauty of autumn in Jiangnan, the region south of the Yangtze River Delta that encompasses Shanghai, Jiangsu and Zhejiang provinces. The collection includes works by artists from all three areas.
The week-long exhibition, organized by the culture and art authorities of Pudong, Suzhou and Hangzhou, is expected to contribute to Lujiazui's goal of bringing high-profile cultural activities to its residents and becoming a cultural hub, as well as strengthening cultural exchanges among the three areas.
Miu Hongbo, deputy head of Hangzhou Fine Art Institute, explained that the three areas have a long history of cultural exchanges.
Miu pointed to the life of the artist Wu Changshuo (1844-1927) as an example. Wu was born in Zhejiang, trained as an artist in Suzhou as a youth, and became famous in Shanghai, before returning to Zhejiang as head of the Hangzhou Xiling Seal Club.
This is the third consecutive year that the Art of Autumn in Jiangnan exhibition has been held, which is also being held as part of the Pudong Culture and Art Festival.
The festival plans to launch a touring exhibition around representative cities and districts in Jiangsu, Zhejiang and Shanghai.