Shanghai launches promotion campaign in Sri Lanka
Updated: 2017-09-04
( chinadaily.com.cn )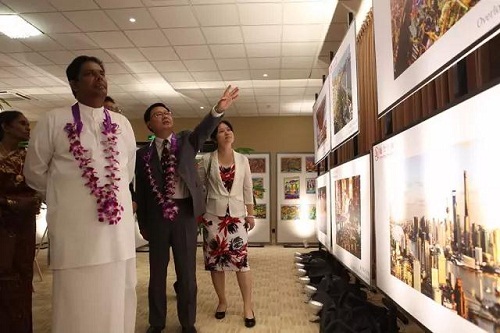 A Sri Lankan cabinet minister, Pang Chunxue, political counselor of the Chinese Embassy in Sri Lanka, and other officials admire pictures of Shanghai at an event in Colombo, capital of Sri Lanka, on Aug 24. [Photo/WeChat account: lujiazuijrc]
Chinese metropolis Shanghai began a major city promotion campaign in Colombo, capital of Sri Lanka, on Aug 24.
Dozens of pictures of the Shanghai skyline and the city's most popular attractions were displayed at the launch ceremony to give Sri Lankan people a better understanding of the city's sights, culture and customs.
The winners of a painting, writing and speech contest in which local people were encouraged to express their feelings about Shanghai through different media were also announced during the ceremony.
More than 2,100 paintings and 930 essays were submitted to the competition, and a further 480 people registered for the speech contest.
The Shanghai Library also presented 500 books about Chinese culture and history to the University of Colombo as gifts during the ceremony.
The opening day of the campaign also saw the launch of Sri Lankan radio station FM 97.9's week-long series of special shows introducing Shanghai's transport, culture, and landscape.
Sri Lanka, an island country known as the "Pearl of the Indian Ocean", boasts beautiful coastline, ancient cities and scenery, and a unique history and culture.
Its capital Colombo has been a sister city of Shanghai since 2014. This promotion campaign is expected to further enhance Sri Lankan people's understanding of Shanghai as well as the cooperation between the two cities.