Lujiazui to work with CFA institute on financial talent training
Updated: 2017-07-14
( chinadaily.com.cn )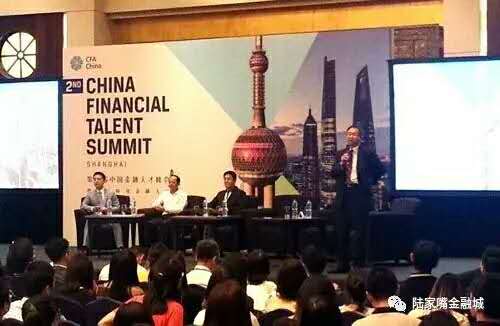 The 2nd China Financial Talent Summit takes place in Shanghai on July 8, with the participation of more than 1,000 leading financial experts, government officials and scholars from China and abroad. [Photo/WeChat account: lujiazuijrc]
Shanghai's Lujiazui Financial City will join hands with the US-based Chartered Financial Analyst (CFA) Institute to explore ways the Shanghai financial hub can further improve its methods of attracting and training talent in the financial sector, according to Wang Hua, director of Lujiazui Financial City Development Bureau.
Wang made the announcement during the 2nd China Financial Talent Summit on July 8, which brought together more than 1,000 leading financial experts, government officials and scholars from China and abroad to discuss China's needs regarding financial talent.
Wang explained that having world-class financial talent is key if Shanghai is to achieve its goal of becoming an international financial center. Therefore, it is necessary to establish a sound, international-standard system for attracting, developing and training financial talent.
Lujiazui Financial City currently houses nearly 40,000 enterprises and up to 500,000 white-collar workers, over 40 percent of whom work in the finance sector. It is also appealing to many world-renowned financial institutions that want to expand into China.
Lujiazui has made efforts to expand its talent attraction channels and improve its talent training system, launching an annual talent recruitment program to select graduates from top universities worldwide, and creating a financial internship program called "Future Financier".
The hub has also sought cooperation with leading overseas institutions such as the UK Department for International Trade, City of London and American Universities' China Association to organize global talent exchange and training activities.