Hyundai Archery World Cup comes to Lujiazui
Updated: 2017-05-25
( chinadaily.com.cn )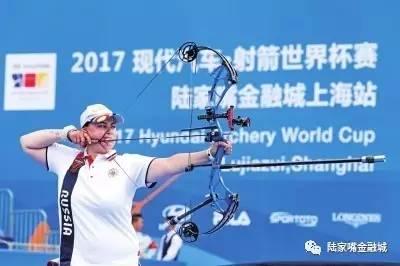 One Russian archer competes at the Shanghai leg of the 2017 Hyundai Archery World Cup circuit that took place from May 16 to 21. [Photo/WeChat account: lujiazuijrc]
The opening stage of the 2017 Hyundai Archery World Cup circuit took place in Shanghai on May 16-21 with the Shanghai final held at the city's Lujiazui Central Greenbelt during the last two days of the competition.
Four competition divisions took place: compound men, compound women, recurve men, and recurve women.
After fierce competition, the Indian team won the compound men's championship, while South Korean team was named champion of women's event. The gold medal for compound men went to Danish archer Stephan Hansen and the compound women gold to Colombian archer Sara Lopez.
Chinese teams also excelled at the competition, with Chinese women's team taking bronze in the recurve competition.
Additionally, an amateur archery competition was launched alongside the World Cup, an event which attracted around 1,500 Shanghai citizens and foreigners.
A special area was also set up for visitors interested in archery to experience the sport. Arrows, bows, and other equipment used for archery were exhibited in the area.