Lujiazui aspires to become Fintech center
Updated: 2017-05-09
( chinadaily.com.cn )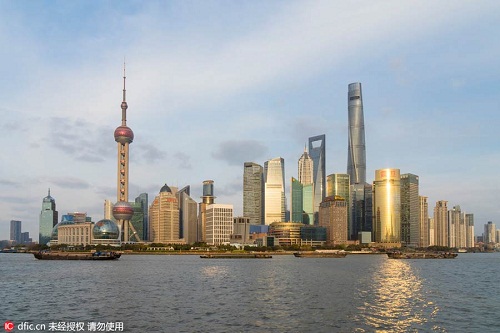 Shanghai's Lujiazui Financial City has the aim of becoming a Fintech center, Lujiazui officials announces at the Lujiazui Fintech Innovation Forum held on April 27. [Photo/IC]
Shanghai's Lujiazui Financial City is working on developing into a Fintech center, authorities announced at the Lujiazui Fintech innovation Forum held at the Lujiazui Emerging Finance Park on April 27.
Lujiazui's recent moves include expanding the functions of Lujiazui Emerging Finance Park and accelerating the construction of Lujiazui Startups Block, which aim to increase the number of incubation spaces available to Fintech startups.
Fintech, short for financial technology, is an emerging industry composed of companies that use new technology to create more efficient financial services.
The integration of technology and finance is considered a boost to the financial industry given it produces a variety of subfields such as blockchain, mobile payment, big data finance and supply chain finance.
To help Lujiazui achieve its goal of becoming a Fintech center, Lin Yang, partner of Fintech transformation and innovation at Ernst & Young, suggested that the area should gather together more Internet finance institutions, encourage the institutions to pursue innovation, strengthen Internet finance risk prevention and control, and build a global Internet finance exchange and cooperation platform.
Lujiazui has used its financial advantages to support quality emerging finance startup companies since 2014. The area now has a large number of emerging finance industrial bases, catering to startups in all stages of development.
The area will further optimize its business environment for the emerging finance industry in an attempt to attract more related companies.
Additionally, it will seek cooperation with top accounting firms, consulting firms and media to release Fintech index and Fintech innovation rankings to increase its exposure in the Fintech sector.
Liu Peng, deputy director of operation service center of Liangyou base of Lujiazui Emerging Finance Park, revealed that a Fintech innovation summit will be held at the end of 2017 to strengthen Lujiazui's influence in the Fintech sector.
Currently, Lujiazui Financial City has been home to more than 5,000 emerging financial institutions. Among the many local success stories is Ice Kredit, a startup that uses big data technology to carry out credit rating for small and micro-sized enterprises and individuals. It been selected among 2016 China Leading Fintech 50 by KPMG China.