Amusement park in Century Park reopens
Updated: 2017-02-16
( chinadaily.com.cn )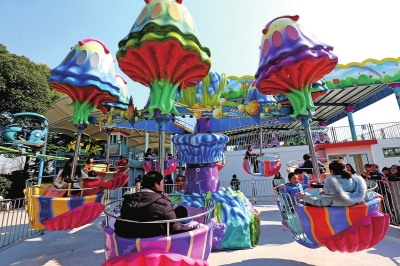 The amusement park in Century Park in Shanghai's Lujiazui area reopens in a larger space and with improved entertainment facilities. [Photo/Pudong Times]
Shanghai residents seeking an afternoon adrenaline boost will be glad to discover that Century Park's amusement park reopened  following a two-month makeover, Pudong Times reported on Feb 15.
The new amusement park has expanded in size from 4,970 square meters to 5,500 square meters and is now able to receive a greater number of visitors.
Additionally, new entertainment facilities have been built including roller coasters, spaceships that simulate the experience of space travel, and a flying swing ride.
Old facilities such as mountain bikes, spacewalk, and dodgem cars have also been upgraded to enhance the experience for visitors.
The following table details the ticket prices for the park's various rides.