Securities regulator approves trust IPO
Updated: 2017-02-14
( China Daily )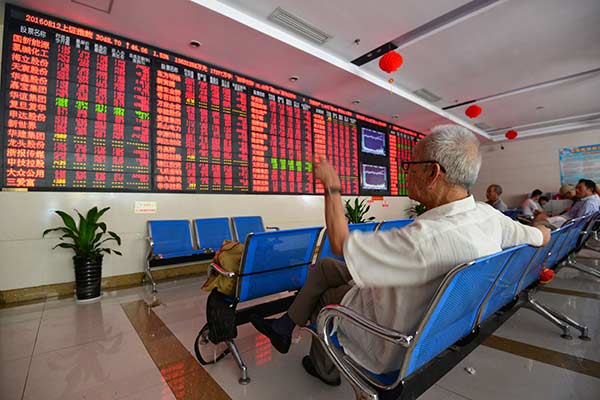 An investor checks stock prices at a securities brokerage in Fuyang, Anhui province. Lu Qijian / for China Daily
First listing in more than two decades for a vibrant sector that is booming
China's securities regulator has approved the nation's first IPO by a trust company in more than two decades.
Shandong International Trust Co won approval from the China Securities Regulatory Commission to sell as many as 676.5 million shares in a Hong Kong IPO, said one of its shareholders, Luxin Venture Capital, in a filing on Friday. Shandong International Trust plans to seek roughly $300 million from the sale, people with knowledge of the matter said early last year.
Chinese trust companies, with 18 trillion yuan ($2.6 trillion) of assets under management as of September, gather and pool money from wealthy investors to buy assets from stocks and bonds to art and wine as well as finance projects such as real estate and coal mines. The industry's expansion has been fueled by demand from corporate borrowers that have difficulty getting loans from banks, as well as investors eager for products with higher returns, putting it among the fastest-growing segments of China's shadow-banking system.
The most recent listings from a Chinese trust company were in 1994, when Shaanxi International Trust Co and Anxin Trust Co sold shares in the domestic market, according to data from Bloomberg. The industry has gone through six periods of industry overhaul since the 1979 establishment of China International Trust & Investment Co by the late Vice-President Rong Yiren. Their functions have evolved from central and local governments' borrowing arms to loan issuers and asset managers.
The Shandong International Trust, established in 1987, had 241 billion yuan of assets under management by the end of May, ranking it 20th among China's 68 trust firms, according to its pre-listing documents. State-owned Shandong Lucion Investment Holdings Group Co is the controlling shareholder with a 69 percent stake.
Bloomberg