Lujiazui's Lantern Festival celebrations
Updated: 2017-02-10
( chinadaily.com.cn )
The Lantern Festival falls every year on the 15th day of the first month of the Chinese lunar calendar. The festival is held to mark the first full moon of the new lunar year and is celebrated by Chinese people by hanging colorful lanterns, playing games, and gathering with friends to eat glutinous rice balls known as yuanxiao.
Certain places even put on a series of folk performances, such as dragon and lion dances, stilt walking, drum dances, and yangge, a form of Chinese folk dance that is particularly popular in northern China.
This year the festival falls on Feb 11. A host of celebratory activities have been planned at the Himalayas Center, a creative cultural and commercial complex in Shanghai's Lujiazui area, to bring locals and visitors alike an abundance of joy.
Family Market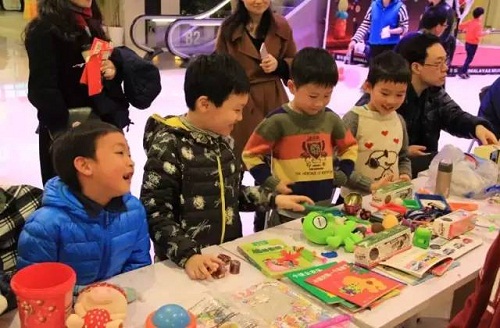 Kids who stand in front of parents chat happily. Toys and books sit on the tables awaiting new owners. [Photo/Wechat: lujiazuijrc]
Children accompanied by their parents are able to enjoy the thrill of selling or exchanging toys, books, and other objects with each other at the family market. Children are able to barter and exchange items they find appealing and are encouraged to do so through their own mercantile powers of persuasion.
Date: 1:00-4:00 pm, Feb 11
Address: B2 middle hall of the South section of Himalayas Center