Running into the New Year
Updated: 2016-12-29
( chinadaily.com.cn )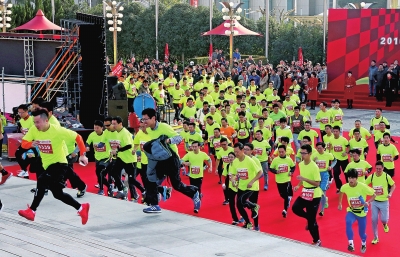 File photo of participants starting their runs up the Oriental Pearl TV Tower in Lujiazui area, Pudong New District, Shanghai, Jan 1, 2016. [Photo/Pudong Times]
Runners in Shanghai's Pudong New Area are set to take the New Year in their stride with three separate races taking place on Jan 1, 2017.
The races will be held at Pudong's Dishui Lake, Shanghai International Tourism and Resorts Zone, and Oriental Pearl TV Tower, aiming to promote a healthy lifestyle and encourage more people to get involved in sports.
Runners at Dishui Lake will run a total of 7.6 kilometers around the lake, in an event which will allow participants to get up close to nature.
The running route planned at the Shanghai International Tourism and Resorts Zone allows runners to pass by many scenic spots, including an ecological park, exotic shopping town, and grand parade.
Participants at the Oriental Pearl TV Tower will be divided for two categories– a competition group and an experience group. Runners in the competition group will run up 259 meters to the glass observatory at the top of the building, while participants of the experience group are only required to run up 90 meters of the building. The race, which runs up the landmark building's staircase, has been held for 22 years. A portion of the revenue raised will be donated to the Shanghai United Foundation to help children with lead poisoning.