Premier Li Keqiang visits Shanghai free trade zone
Updated: 2016-11-25
( chinadaily.com.cn )
Premier Li Keqiang visited the China (Shanghai) Pilot Free Trade Zone (FTZ) in the city's Pudong New Area on Nov 21 and 22 to inspect the zone's latest developments.
The Shanghai FTZ, inaugurated in September 2013, aims to become a driving force for China's reform and opening up. In April 2015, the FTZ was expanded from 28 square kilometers to 120 sq km to better fulfill its mission, incorporating three more areas – Lujiazui Financial and Trade Zone, Jinqiao Development Zone, and Zhangjiang High Tech Park.
This was the third time the Premier has visited the pilot zone since its inauguration, indicating the zone's significant role in the country's economic development.
On Nov 21, the Premier visited the market supervision bureau of the Shanghai FTZ, where he praised the bureau's move of integrating five hotlines for consumer complaints and price monitoring into one platform, saying that the move not only enhances market supervision but also helps keep a fair market.
Premier Li Keqiang also went to the China headquarters of General Electric in the FTZ, which was attracted by the FTZ's preferential policies and good business environment. Li said GE's choice demonstrated that China is still one of the best destinations for foreign investors.
Premier Li Keqiang visited E&P International, an online port management company that runs the international trade single window in the Shanghai FTZ on Nov 22, where he encouraged improving customs clearance efficiency to boost the country's imports and exports.
The Premier also listened to a detailed report about the FTZ's reform, opening up, and innovative moves during the past three years and spoke highly of the zone's development. He expected that the zone will continue to be a pioneer and role model in promoting reform, opening up and innovation.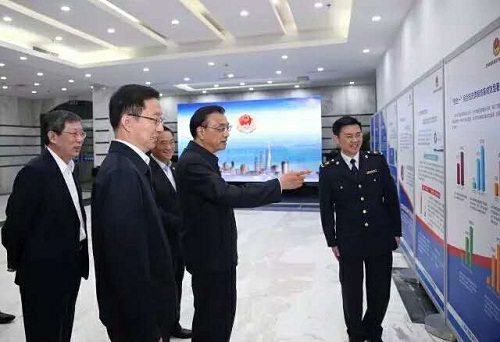 Premier Li Keqiang visits the China (Shanghai) Pilot Free Trade Zone (FTZ) in the city's Pudong New Area on Nov 21 and 22 to inspect the zone's latest developments. [Photo/gov.cn]