Shanghai Tower wins Best Tall Building Worldwide 2016
Updated: 2016-11-11
( chinadaily.com.cn )
Shanghai Tower, the newest and tallest addition to Shanghai's skyline in Lujiazui, Pudong New Area, has been named the Best Tall Building Worldwide 2016 by the Council on Tall Buildings and Urban Habitat (CTBUH).
The 118-floor skyscraper stood head and shoulders above the more than 100 other entries for the prestigious award, winning the Best Tall Building Asia & Australasia title in June before being crowned the best of the four regional winners at the CTBUH Awards ceremony in Chicago, US on Nov 3.
The building faced tough competition in Chicago from the three other regional winners: VIA 57 West, winner of the Best Tall Building Americas award; The White Walls, which won Best Tall Building Europe; and The Cube, Best Tall Building Middle East & Africa.
But China's tallest building towered above the competition thanks to its groundbreaking sustainable design.
The judges were impressed by the building's double-skin façade, a communal space filled with greenery that encircles the entire building. This green space not only makes the building more livable, but also helps conserve huge amounts of energy and ventilate the tower.
Antony Wood, CTBUH's executive director, was particularly struck by Shanghai Tower's sacrifice of valuable floor space to the double-skin areas and the building's nine sky lobbies, proving that the designers' aspirations for the building went far beyond mere commercial gain.
Shanghai Tower shows the greatest commitment to communal space in a tall building since the Commerzbank Tower was built in 1997, commented Wood.
At 632 meters high, Shanghai Tower is currently the second tallest building in the world and covers a total floor area of 578,000 square meters. The tower integrates office areas, hotels, convention and exhibition areas, sightseeing and leisure zones, as well as commercial areas.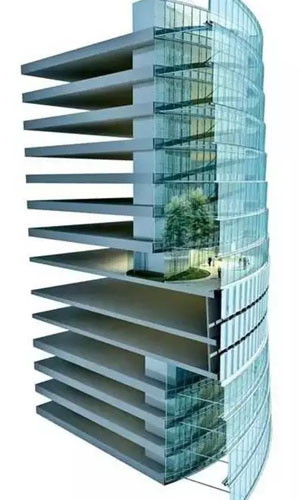 Shanghai Tower's double-skin façade both conserves energy and offers visitors pleasant communal green space. The building's sustainable design impresses the judges at the CTBUH Best Tall Building Awards and helps the tower in Lujiazui, Pudong New Area win the award. [Photo provided to chinadaily.com.cn]