China's first FinTech incubator opens in Lujiazui
Updated: 2016-10-24
( chinadaily.com.cn )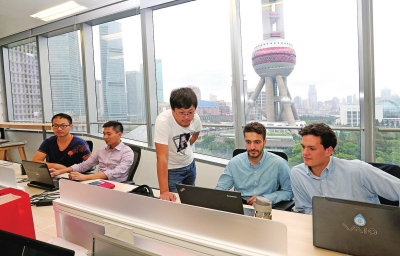 China's first financial technology incubator JadeValue opens in Lujiazui, Shanghai's financial hub, on Oct 20, offering FinTech startups free office space of 2,000 square meters. [Photo/Pudong Times]
China's first financial technology incubator JadeValue was officially launched in Lujiazui, Shanghai's financial hub, on Oct 20.
Financial technology, or FinTech for short, is an industry composed of companies that use technology to create more efficient financial services, such as retail banking, payments, money transfers, loans, financing, wealth management, and insurance.
The new incubator is sponsored by a Shanghai-based FinTech company, CashBus, which was established in September 2014 and wants to use its own experience to help nurture more FinTech startups.
The incubator mainly targets startups involved in blockchain databases, robo-advisory, artificial intelligence in real estate, and credit diagnosis.
Startups eligible to move in the incubator can enjoy free office space and free services in capital, talent, and networking. In return, the incubator gains the right to become a follow-up investor, when the startups raise funds, which is the incubator's way of making profit, explained Tang Yang, founder of JadeValue.
So far, the incubator has invested in or nurtured more than 10 projects and is home to five FinTech startups.