Lujiazui holds World Medical Tourism Conference
Updated: 2016-07-15
( chinadaily.com.cn )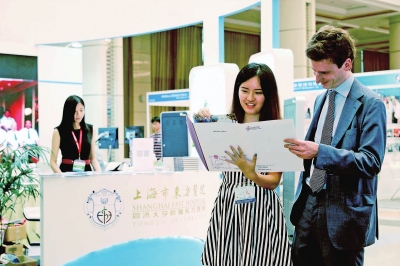 The interior of the Shanghai Oriental Hospital in Lujiazui, Pudong [Photo/Pudong Times]
The second Shanghai World Medical Tourism Conference was held from July 8 to 10 in the Lujiazui area of Pudong New District, Shanghai.
The aim of the summit was to standardize Chinese medical tourism, boost cross-border integration of medical resources, and accelerate the internalization of traditional Chinese medicine.
More than 1,000 delegates from over 20 countries attended the conference, and shared their views on various topics, including the present and future of Chinese medical tourism, Internet and the medical tourism industry, and new medical technology.
Some attendees said that medical tourism focuses on attracting world-renowned medical experts to visit China and promoting Chinese medical treatment to overseas tourists.
The Shanghai Oriental Hospital in Lujiazui has the potential to be a driving force for Shanghai's medical tourism, since it provides advanced medical treatment and Lujiazui is a popular tourism destination.
The hospital's recent move to add a new 90,000-square-meter building is expected to provide boost to the city's medical tourism.