Lujiazui setting itself up as a cultural center
Updated: 2015-10-16
( chinadaily.com.cn )
The Lujiazui financial area of the Pudong New District of Shanghai is getting ready for its 9th culture festival, whose theme this year is "Our Home, Our Party", and which runs Oct 26 – Nov 26 to enrich the lives of its white-collar workers with a combination of mass culture and art.
The festival will have 13 cultural events such as a youth dream show, a singing competition, and sports contests as well as a jazz festival, an outdoor art festival and art exhibitions, with expectations of attracting about 85,000 workers.
The annual festival is considered a significant move by the local government to make Lujiazui a cultural center instead of just a financial center since it considers culture to be just as important as the economy in measuring the overall development of an area.
Lujiazui has held many other cultural activities in trying to reach this goal, with more than 100 this year alone, including dramatic performances, music shows, art displays, culture lectures, and singing and poetry competitions.
Its government has also asked local institutions to join the effort, so some have organized their own culture activities, while some have offered financial support for the programs.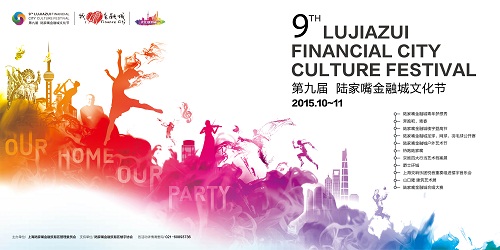 Poster for the 9th Lujiazui Financial Culture Festival in Pudong New District of Shanghai, Oct 26 – Nov 26. [Photo provided to chinadaily.com.cn]