Lujiazui Forum 2015
Updated: 2015-06-29
( chinadaily.com.cn )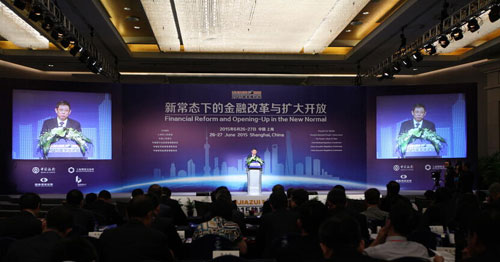 Yang Xiong, mayor of Shanghai annouces the forum open.
The 2015 Lujiazui Forum, with the theme of "Financial Reform and Opening-up in the New Normal", kicked off in Shanghai on June 26-27.
Jointly hosted by the Shanghai Municipal People's Government, People's Bank of China, China Banking Regulatory Commission, China Securities Regulatory Commission (CSRC) and China Insurance Regulatory Commission, the forum invited nearly 130 guests from government, financial regulatory departments, research institutions and business enterprises to share their views on current actual financial topics.
Xiao Gang, the chairman of CSRC, and Yang Xiong, the mayor of Shanghai, served as co-chairpersons of the event.
The Lujiazui Forum involved a series of plenary sessions and sub-forums concerning such issues as exchange & interest rates liberalization and opening up of capital accounts, registration-based IPO reform, China's macro-economic situation and policy options, and international financial cooperation and the Belt and Road Initiative.
The Lujiazui Forum is held annually since 2008 against the background of a rapid expansion of China's financial markets and China's growing influence on the world's financial and economic outlook. It aims to provide a high-level platform for government and financial leaders, well-known experts and scholars to discuss major global financial issues.