Disney store adds glamour to Shanghai
Updated: 2015-05-19
( chinadaily.com.cn )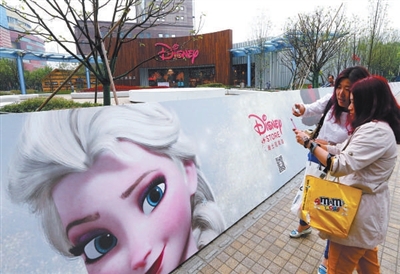 Disney's first retail store in China – the biggest in the world – will open in Lujiazui on Wednesday. [Photo by Xu Wanglin for chinadaily.com.cn]
Shanghai elements are highlighted in the first Disney flagship store in the Chinese mainland, due to open in Pudong New Area on Wednesday.
More than 2,000 Disney products, including clothing, smartphone covers, stationery and bags, will be sold at the Shanghai store. 99 percent are exclusively sold in Disney stores, according to the shop manager.
Some limited editions have been designed to celebrate the opening of the Shanghai store, such as Mickey Mouse toys with Disney Shanghai or Disney 2015 embroidered in the feet, and mugs and key rings printed with Chinese-style lane houses. A series of "I Love Shanghai" products will be exclusively offered at the Shanghai store.
Prices range from about 20 yuan ($3.2) to more than 1,000 yuan. Due to different tariffs, some products will be about 40 to 60 percent more expensive than those in Hong Kong and Tokyo Disney shops, according to the Jiefang Daily.
The Shanghai store covers about 5,000 square meters, with a 1,000-sq-m retail space and a Disney-themed outdoor plaza.
Jon Endicott, chief designer of Shanghai store, said there are three images of Mickey Mouse hidden outside the store: one in the flower bed of the outdoor plaza, another on top of the store, visible from the Oriental Pearl TV Tower, and the last one is left for visitors to look for.
Designers hope that when customers step inside the store they feel like they are walking into Disney-like theme park. With this philosophy, a 5.8-meter-tall magic kingdom castle was set up at the entrance. Following the road signs, customers will see Mickey Mouse waving in a hot-air balloon, the magic mirror in Snow White and sculptures of Ironman.
A three-minute show with clips from Disney movie classics will be shown in the store every hour, when lights will be dimmed.
The store is located at the crossroad of Fenghe road and Lujiazui road west, neighboring the Oriental Pearl TV Tower and Super Brand Mall. It will open daily from 10 am to 10 pm.
The Shanghai Disney Resort, the first Disney resort on the Chinese mainland, is due to open early next year. The 3.9-square-kilometer resort will have a theme park, two themed hotels, various dining and entertainment venues, recreational facilities, a lake and transportation hubs.