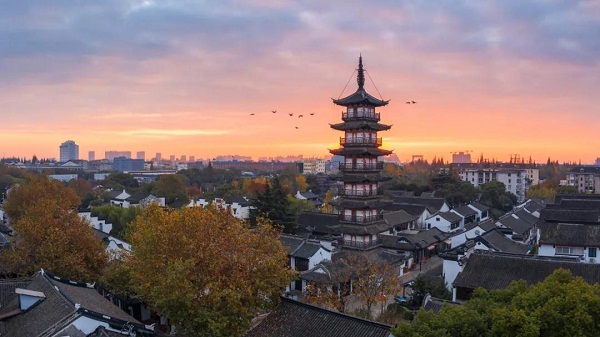 A bird's-eye view of Fahua Pagoda in Jiading district. [Photo/WeChat account: sh-jiading]
The pagoda, also called Jinsha Pagoda, is located south of Lianqi River in Zhouqiao, Jiading, and was constructed during the Kaixi reign of the Southern Song Dynasty (1205-1207). The Fahua Pagoda, 40.8 meters tall, is a square, brick-wood structure with seven stories, accessible by ladders.
Due to its weak structure, the Fahua Pagoda collapsed several times in history, and after repeated renovations and reconstruction, the original state and features are still well conserved today.
During the renovation project in 1996, underground chambers built in the Song and Yuan Dynasties and underground chamber built in the Ming Dynasty were discovered, where dozens of valuable cultural relics, such as bronze Buddha statues, stone Buddha statues, iron pagoda, silver basin, jade ware, agate and ancient coins, were excavated.
In the compound of the pagoda, there is a Ming Dynasty styled decorative archway, which was moved to this place when the pagoda was constructed. On the archway, there is a plate inscribed with two words "Imperial Edict".
In the past 800 years, the pagoda has always been the landmark building in Jiading. Now, it's a Shanghai Municipality Protected Historic Site.
Inside the pagoda is the Exhibition Hall of the Life of Gu Weijun, a famous diplomat born in Jiading.
Telephone: 59919581
Address: Zhouqiao old Street, Jiading District
Ticket price: 5 yuan
Opening: 8am-4:30pm