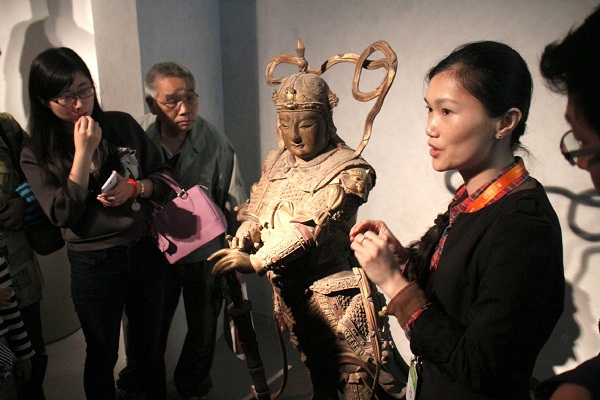 Tourists look at a statue at the Aurora Art Museum in Shanghai. [Photo/IC]
Shanghai released its 14th Five-Year Plan for the development of its cultural sectors on Sep 2.
Wang Yayuan, deputy director of the municipal administration of publicity, said that the city will continue to improve the creativity and influence of its cultural industries, and enable the public to further participate in urban culture in the coming years.
According to the plan, Shanghai will produce no less than five outstanding TV and film productions and two or more high quality theater performance every year from now till 2025.
A series of new cultural facilities, such as the east wings of the Shanghai Library and the Shanghai Museum, the Grand Shanghai Opera House and the children's library in Pudong, will also be completed, according to Fang Shizhong, head of the municipal administration of culture and tourism.
Presently, more than 2,000 exhibitions take place every year across the 250 registered museums in Shanghai, drawing some 20 million visitors and illustrating the city's soft power, said Fang, adding that Shanghai will increase the number and quality of exhibitions in the coming five years.
He expressed hope that the city could host a series of outstanding exhibition events during a certain period every year to form a season of art.
According to the plan, the city will attract more tourists from home and abroad, provide more diversified cultural content, as well as strengthen the development of cultural industry sectors such as art trading, live performances and e-gaming.