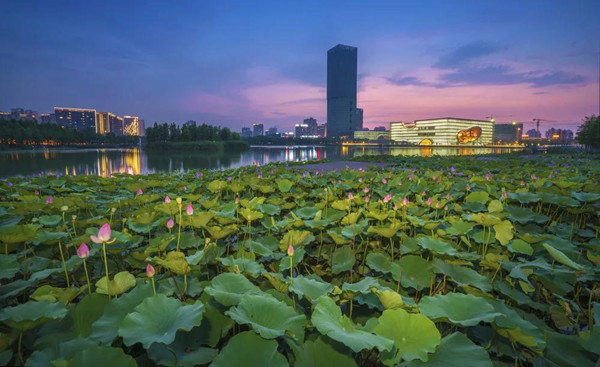 Jiading district in East China's Shanghai plans to become an independent node among city clusters in the Yangtze River Delta. [Photo/jiading.gov.cn]
Jiading district in East China's Shanghai will become an independent node among city clusters in the Yangtze River Delta, focusing on building itself into a modern new city with strong innovation vitality, as well as unique cultural charm in the next five years, according to proposals tabled at the annual session of the district's People's Congress, which was held from Feb 3 to 6.
During the 14th Five-Year Plan period (2021-25), Shanghai will accelerate the building of five "new cities" in its suburban areas to optimize its development layout and boost economic growth in the next five years, with Jiading being one of the five new cities.
Local authorities said that Jiading will give full support to the building of major industrial projects, high-quality public infrastructure, and comprehensive transportation hubs in the district. Jiading will also focus on scientific and technological innovation, the integration of industry and city, humanistic education, as well as smart transportation.
In recent years, Jiading has been making efforts to advance the transformation and upgrading of its traditional automobile industry, while also keeping up with the new development trend of the digital, networked, and smart development of the automobile industry, aiming to build itself into a core area of a world-class automobile industry center.
Gao Xiang, head of the district, said that this year, Jiading will continue to boost its pillar industries, including the automobile industry, smart sensors, the internet of things, high-powered medical equipment, as well as precision medicine, to cultivate a modern and complete industrial chain.
Over years of development, Jiading has become a popular gathering place for high-tech enterprises. In 2020, the district had 1,800 such enterprises, ranking second in Shanghai. In the next five years, Jiading is expected to be home to 3,000 high-tech enterprises.